How Grid Trading Works
Note: more information on our Telegram Chat https://t.me/RobotOpzioniBinarie (English/Italian)
Let's find out how the bot actually work.
In this example, we use BTC/USDT pair the following parameters (In this example Bitcoin mainly oscillates between $3000 and $4000).
Highest price: $4000
Lowest price: $3000 
Number of grid: 6
Amount per grid: 1 BTC
1. The bot will distributed the grid according to these settings.


2. The bot detect the current price ($3450) and remove the nearest order ($3400)  from it.


3. Turn all the orders into sell orders and buy orders. Also calculate the BTC and USDT amount needed for creating the bot (the bot will re-allocated your fund if needed).


4. When the price rise and hit the sell order ($3600), it'll place a buy order one grid down from that grid, which is $3400 in this case.
The current price is now $3650.


5. When the price drop and hit the nearest buy order ($3400), it'll place at the same time a sell order one grid up from that grid, which is $3600 in this case.
Current price is now $3350.


6. With continuously buy and sell, we can make profit from each trade and that's how we define the profit per grid.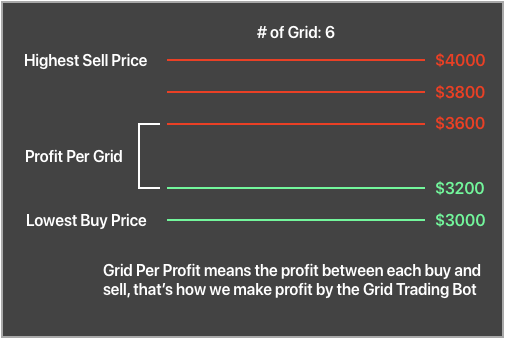 Note: Among the parameters required by the bot there is also the profit per grid, which is recommended to be preferably between 0.5% and 2%.
More information on our Telegram Chat https://t.me/RobotOpzioniBinarie (English/Italian)
Pionex. Exchange con Bot gratuito compreso
_____________________________
Questions about trading? Try AI, Artificial Intelligence
(Robot bottom right)
Below you can see the brokers most used by our traders.  they have been selected based on the number of registrations and trading operations. In addition to these, you can view the complete list of brokers with relative comparison.
Visit our Italian website ForzaForex.it (translator option in many languages) full of free indicators, strategies and unique resources!
By registering through these links you get preferential assistance, various free resources and the possibility of free access to the VIP signal room. Clear cookies before visiting a broker. Send your ID, teh identification number that the broker assigns you, to info@freebinaryoptions.one.
Risk warning: "Binary options are not promoted or sold to retail EEA traders" If  the broker is not authorized in your area, e.g. IQ Option  (Eurozone / Usa), you can choose from our Broker Comparison (reliable brokers who accept traders from all over the world, following image):