Pocket Option has Metatrader available on its platform. How does it work.
Important. In Europe, a different link is needed to access Pocket Option, due to the censorship of financial institutions: https://bit.ly/PocketOptionNewLink
Normal Link https://bit.ly/PocketOptionInternational
Pocket option has the MetaTrader platform integrated into its online platform. Here's how to open MT5.
Pocket Option Metatrader Binary Options.
The platform currently allows to operate only with the classic Forex and CFD. There is currently no extension for the binaries, but it is not excluded that we will find it soon.
You can also follow the simple procedure on video (text without audio):
At the moment the Metatrader inside Pocket Option allows the classic Forex and CFD trading directly from the web version, without downloading or installing programs.
As an alternative you can also download the MT5 desktop version software and by entering the Pocket Option server name, Password and Username.
To access Metatrader just click on the balance:
A window opens with 3 options:
The first one selects the type of account, the normal one, Live or Demo. The second to open MetaTrader 5 with real account, the third MetaTrader demo.
By clicking on the MetaTrader Live a warning pop-up appears:
So let's click on MT5 Demo and a login window will appear:
The username is already present. The password is at the top.
By clicking on the eye the password appears, but simply click on "Copy to clipboard", and paste it in the box. The Metatrader 5 is ready for use.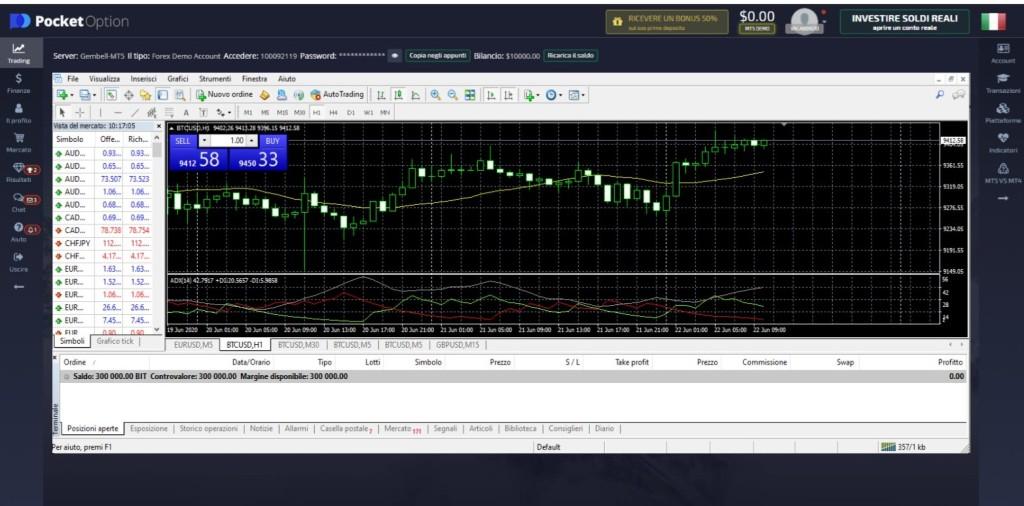 POCKET OPTION METATRADER MAIN SCREEN
Useful links:
Europe Link Pocket Option https://bit.ly/PocketOptionNewLink
Normal Link https://bit.ly/PocketOptionInternational
Telegram Chat Pocket Option https://t.me/PocketOptionTelegram