Risk warning: "Binary options are not promoted or sold to retail EEA traders. IQ Option Europe Ltd. does not provide or promote binary options to retail traders from Europe".
Broker review
BANNED AND LEGAL COUNTRIES.
IQ OPTION   Frequently Asked Questions…with answers!
The world's best trading platform.
Over the years this binary option broker has been operational, it has won multiple awards praising it's quality of service and reliability for customers. IQ Option is recognized as one of the best brokers in the industry by many millions of traders worldwide.
IQ Option is regulated by the CySec and is registered in Cyprus under the company name "IQ Option Europe LTD", and​ does not provide or promote binary options to retail traders from Europe.
For traders that reside outside of the European Economic Area, their trading accounts are managed by a sister company known as "IQOPTION LTD". This company is registered in St. Vincent and Grenadines, and this entity is not regulated.
IQ OPTION COUNTRY LIST – BANNED AND LEGAL COUNTRIES
"IQ Option does not accept traders from your country"
When some traders try to sign up with IQ Option, they get the message: "IQ Option does not accept traders from your country." This is because these traders are residents of banned countries in which IQ Option does not provide any services. Only residents of accepted countries have access to IQ Option's trading services and platforms.
Banned Countries
The countries in which IQ Option is unavailable, are Australia, USA, Belgium, Canada, Iran, Israel, Japan, Latvia, North Korea, Pakistan, Palestine, Russia, Sudan, Syria and Turkey.
Examples of supported countries, (or allowed countries) where residents can enjoy trading with IQ Option, are European countries like Germany, France, Spain, the UK, Netherlands, Portugal, Sweden, Switzerland, Greece, Italy, Iceland, etc.
Other legal countries include South Africa, South Korea, Brazil, Argentina, Mexico, New Zealand, Thailand, Peru, Chile, Colombia, Venezuela, Saudi Arabia, Taiwan, etc.
Differences Between EU and Non-EU Countries
In the EU (European Union), online trading is regulated by ESMA (the European Securities and Markets Authority). IQ Option Europe Ltd. is regulated by ESMA, and IQ Option clients who reside in the EU are therefore subject to the regulations and trading conditions of ESMA.
ESMA has banned binary options and digital options. This means that IQ Option traders from the EU (except professional EU traders) do not have access to these instruments. However, these traders can trade FX options with IQ Option because it is allowed by ESMA.
ESMA has also restricted the amount of leverage which is available to retail EU traders. So, traders from outside the EU can use much higher leverage than traders from the EU.
Countries Where Binary and Digital Options Are Banned:
Examples of countries where binary and digital options are banned, are Germany, France, Austria, Belgium, Estonia, Bulgaria, Croatia, Cyprus, Netherlands, Czech Republic, Denmark, Italy, Finland, Greece, Hungary, Ireland, Latvia, Lithuania, Luxembourg, Malta, Poland, Portugal, Romania, Slovenia, Spain, Sweden, and Slovakia.
Countries Where Binary And Digital Options are Available:
Countries where binary and digital options are available, are all (IQ Option-) legal countries outside of the European Union. Examples of these countries include Switzerland, Thailand, South Africa, South Korea, Argentina, Mexico, New Zealand, Peru, Chile, Colombia, Venezuela, Saudi Arabia, Taiwan, Bolivia, Malaysia, and Brazil.
These countries do not have access to FX options because it is only available to traders from the European Union.
IQ Option Review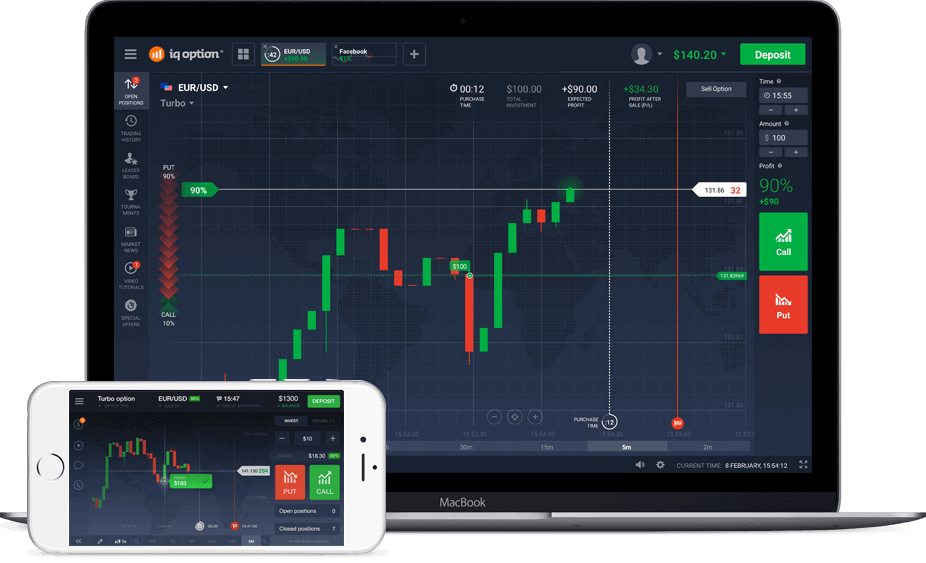 Demo: Unlimited $10 000 practice account

Best video tutorials in the industry

Availability on any device

A wide range of analysis tools

More than 70 assets for trading

A simple and reliable funds withdrawal system

*Amount to be credited to account in case of successful trade
IQ Option is a reliable broker and is regulated by CySEC. In Europe, it only accepts "professional" traders 
Minimum trade
The minimum investment is $1
Minimum Deposit
The minimum deposit requirement to open a trading account at IQ Option is $10.
Platform
IQOption uses a proprietary type of trading platform.
Withdrawal
Simple and reliable withdrawn
Withdrawal requests at IQ Option normally take one business day, but as be as short as a few hours.
INDICATORS
IQ Option offers over 15 different technical indicators to help you identify trends and to spot profitable trades.
The 15 technical indicators that are available to you include: MA, Volume (exchange), Bollinger Bands, Alligator, RSI, MACD, Parabolic SAR, Stochastic Oscillator, Awesome Oscillator, ATR, ADS, Fractal, CCI, Ichimoku Cloud, KDJ, DPO, and Belkhayate Timing.
IQ OPTION F.A.Q. Frequently Asked Questions…with answers!
Why IQ option is banned in USA?
Unfortunately, IQ Option is not legal for the U.S traders. That means, they do not accept any traders from the USA territory. IQ Option is based in Cyprus and regulated in the EU. So, traders from European countries and also non-European countries can trade using this legit trading broker.
Can I get rich with IQ option?
It is not possible to get rich just trading in IQ Options. If you have other types of financial investment, you can make a great money, but with binary options it will difficult. The financial market is changing all the time and is too risk, so at the same time you gain money, you also lose it.
How legit is IQ option?
Yes, IQ Option is safe. This company is one of the biggest and most successful binary option brokers in the industry with over 40,000,000 registered users. They are also licensed and regulated by the CySEC (Cyprus Securities and Exchange Commission) and the FSA (Seychelles Financial Services Authority).
How much can I earn from IQ option?
Actual statistics show that the highest earners on the binary options brokers' platforms earn somewhere between $3000 and $5000. More people than the 10 or 5 percent could be winning making the actual figures more spread out.
Has anyone made money on IQ option?
Over 90% of Traders lose money on IQ Option. … In fact, they do make some winning trades every once in a while. However, their winning trades won't make enough money to offset losses.
Why can't I deposit money on IQ option?
IQ Option company is not able to debit your account without your authorization. Please make sure that a third party doesn't have access to your bank account or e-wallet. It's also possible that you have several accounts on our website.
What is the minimum amount to deposit in IQ option?
$10. Unlike most CFDs and binary brokers, IQ Option has only chosen to offer 3 types of trading accounts, a standard trading account, a VIP account and a demo account. To open a standard account, only a minimum deposit of $10 is required.
How do I fund my IQ option account?
Go to the IQ Option website and click on 'Deposit' on the right side of your screen. Choose the amount you would like to deposit and your preferred local bank. For your convenience, here is the full list of banks available for payment in your country: Finally, click on 'Go to payment'.
How can I verify my IQ option account?
To verify your identity you must provide a scan or a photo of your passport or identity card.
Passport only the page with your photo I.D. for Card scan both sides.
Address verification
To verify your address of residence you must provide a scan for a photo of one
of the following documents issued in your name.
Statement for a bank account or credit card
account bill for utility services electricity telephone water
Document from the municipality confirming your address with an official stamp
tax statement.
Bank card verification
To prove your ownership of the card you are using for transactions you must provide a scan or a photograph of both sides of the card.
Requirements for providing a card.
The card must contain your name. On the front and back sides of the card.
Can I have 2 IQ option accounts?
No, in such case IQ Option blocks the account and ask the owner to confirm the operations. Please note that the customer is obliged to register only 1 (one) Real account with the company.
What is the best IQ option strategy?
Turbo or 60-second operations are the most commonly used on the IQ Option platform. Most traders look for the best 60 second IQ Option strategy. The advantage of this type of operation is that it is quick to finish, so we don't have to wait hours or days to know if we win or lose.
How to withdrawn?
Go to iqoption.com.
Sign in.
Click on the user pick in the upper right-hand corner of the screen.
Select "Withdraw Funds" from the list of available options.
Click on the preferred payment system.
Follow the specific instructions indicated.
Which e wallet is best for IQ option?
One of the payment methods on the platform is an e-wallet called Neteller. Neteller is a multi-currency digital wallet that you can set up online for free and use it for deposits and withdrawals from your IQ Option account.
What is option fee IQ?
IQ option charges little to no commission fees. A fee of 2.9% will be charged if you open a 'long' cryptocurrency position. For example, if you invest $10 to buy the equivalent in Bitcoin, you will be charged $0.29 for opening the position (or 2.9% of $10).
Can IQ option be trusted?
IQ Option is a legit, fully regulated broker with a license in the EU issued by Cyprus Securities and Exchange Commission (CySEC). … When you are trading, transparency is key to a company being considered safe and trustworthy.
Who owns IQ option?
Managed and owned by IQ Options Europe Ltd, IQ Option is a financial services provider that is based in Cyprus.
Which is better IQ option, Olymp trade or Expert Option?
All these platforms are great for both beginner and expert traders. IQ Option is a good choice for traders who want to start small as well as trade binary options. Olymptrade is similar. Expert Option on the other hand offers more trading accounts although their basic account requires a larger deposit. Another similar broker (new) is Effect Option
Iq Option Strategy
This strategy is a classic price action system: The Rebound Line!
WARNING: "Risk warning: Binary options are not promoted or sold to retail EEA traders. If you are not a professional client, please leave this page
_____________________________
Questions about trading? Try AI, Artificial Intelligence
(Robot bottom right)
Below you can see the brokers most used by our traders.  they have been selected based on the number of registrations and trading operations. In addition to these, you can view the complete list of brokers with relative comparison.
Visit our Italian website ForzaForex.it (translator option in many languages) full of free indicators, strategies and unique resources!
By registering through these links you get preferential assistance, various free resources and the possibility of free access to the VIP signal room. Clear cookies before visiting a broker. Send your ID, teh identification number that the broker assigns you, to info@freebinaryoptions.one.
Risk warning: "Binary options are not promoted or sold to retail EEA traders" If  the broker is not authorized in your area, e.g. IQ Option  (Eurozone / Usa), you can choose from our Broker Comparison (reliable brokers who accept traders from all over the world, following image):