HOW TO TRADE FX OPTIONS. WHAT ARE THE FX OPTIONS – Review and Tutorial

European traders will be pleased to know that IQ Option now offers an alternative to binary options – FX options. Retail traders from the European Union do not have access to IQ Option's binary option and digital option instruments anymore due to ESMA (European Securities and Markets Authority) regulation, but they are now able to trade the FX options offered by IQ Option.
Before we go into detail about the differences between FX options and binary options, let's first take am overlook:
13 forex pairs available + commodities and indices
Uncapped profitability (for successful trades)
Expiry time every 1 hour
Choose between different strike prices
Profit from rising or falling markets (in the case of winning trades)
Enjoy IQ Option's trading apps, technical indicators, and widgets
What are IQ Option's FX Options
IQ Option's FX options have 13 forex currency pairs, Crude Oil Brent, Crude Oil WTI, gold, silver, and 7 stock indices.
FX Options can be traded with the following expiry times: 10 minutes, 20 minutes, 30 minutes, 40 minutes, 50 minutes, and 60 minutes. However, because trades can be entered late, a trade's actual expiry time may be less than the times mentioned above.
For example, a 10-minute FX option contract can be entered more than 9 minutes late, which means that you can actually enter a trade which expires in less than 1 minute. Likewise, if you entered 5 minutes late on a 40-minute FX option contract, your actual expiry time would be 35 minutes from the moment you entered the trade.
Positions taken on FX option contracts can be closed prematurely (before the expiration time) and have virtually unlimited profit potential (for successful deals). Also, in the case of out-of-the-money trades, the amount which is lost can in some cases be less than 100% of the investment amount.
Difference between FX Options and Binary Options
Strike Price
With binary options, traders can only trade at the current strike price of the options contract, but with FX options, they can choose between a number of different strike prices which are available at that particular time.
Risk to Reward Ratio
Each binary option contract offers a reward that is less than the possible loss. For example, with an investment of $100 in a binary options contract with a profitability percentage of 90%, a trader will gain $90 (at expiration) in the case of a winning trade and lose $100 (at expiration) in the case of a losing trade.
Certain binary option contracts can be closed prematurely. In this case, the loss may be less than 100% of the investment amount in the case of a losing trade and the profit (in the case of a winning trade which is closed prematurely) will also be less than the maximum profit which might have been gained at the time of expiration.
On the other hand, FX options have the advantage of much more flexibility when it comes to risk to reward ratios. On each individual FX options contract, traders cannot lose more than the amount they invest. However, because they can choose the strike price, they have the ability to alter the risk to reward ratio. So instead of being limited to a maximum payout of, for example, 90%, they can achieve gains which are basically unlimited.
Contract Duration / Expiration Times
There is a notable difference between the expiration times available with binary options and FX options. IQ Option's binary options (excluding OTC binary options) can be traded with expiry times that vary between 30 seconds and 30 days. There are a couple of deadlines between 30 seconds and 10 minutes as well as two longer contracts, namely 'end of the day' and 'end of the month'.
As explained already, FX Options are expiring every hour. So, the big difference is, that with FX options, you don't have access to the 'end of the day' and 'end of the month' expiries like you have with binary options.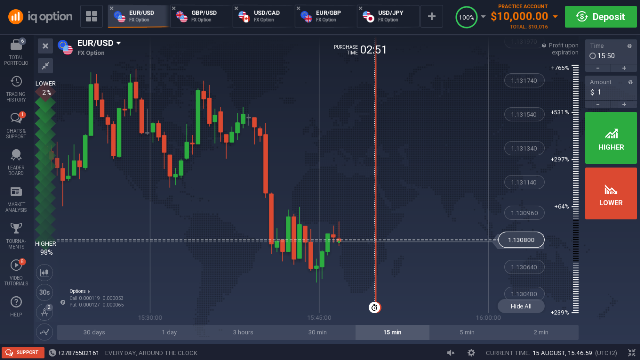 Currency Pairs / Instruments Available
When comparing FX options with binary options, we find that IQ Option offers many more binary options than FX options. With binary options, clients can trade roughly 34 currency pairs, 22 stocks, two stock indices, and gold. On the other hand, FX options are currently available in 13 currency pairs, 4 commodities, and 7 stock indices. The number of instruments available in binary options and FX options can change at any time, and IQ Option will probably add more instruments currency pairs to the group of FX options soon.
Regulation
As mentioned earlier, retail traders from the European Union are not able to trade binary options and digital options with IQ Option due to ESMA (European Securities and Markets Authority) regulations. On the other hand, retail EU traders are able to trade IQ Option's FX options which comply with ESMA's regulations.
With FX options, IQ Option has made a way for retail EU traders to trade a type of options contract that replaces the binary options that were previously available to them!
Different Platforms for Trading FX Options
EU traders can trade the FX options of Iq Option via web, desktop, Android, and iOS platforms.
IQ Option Platform / Account Features
Fully Functional Demo Account (Free)
IQ Option's demo or practice account is really worth mentioning. It has all the features of a real money account and does not expire like many other demo accounts. With this demo account, traders can practice with $10,000 virtual money and acquaint themselves with the markets and trading instruments before trading with real money.
This account can be topped up to the original value of $10,000 at any time, which is a pretty convenient feature. Traders can also switch between their real and demo accounts without even leaving the trading platform. Don't forget that IQ Option's demo account is yours to use free of charge!
Low Minimum Deposit and Minimum Investment Amount
With a deposit of only $10, clients can access a real money account with IQ Option and start trading certain instruments like forex pairs, stocks, and commodities with an investment amount of only $1.
FX options require a minimum investment amount of 25 euro or $30, however.
Indicators, Graphical Tools, and Widgets
IQ Option's trading platform is equipped with all the tools you may need:
Technical indicators – Moving averages, oscillators, ATR, Ichimoku Cloud, Fractal, and many more.
Different chart types – Line charts, candlestick charts, bar charts, and Heikin-Ashi.
Graphical tools – Different lines including Fibonacci.
Widgets – See the following widgets right on your charts: 'Traders' Mood', 'High and Low Values', 'Other Traders' Deals', 'Volume', and 'News'.
Customer Support
IQ Option clients can easily contact its support team via the 'Chats and Support' tab on the left side of the trading platform. At the bottom left of the platform you will also see a telephone number that you can call 24/7. The chat feature is also available at any time of the day and week. Customer support is available in 13 languages.
Trading Education
On the trading platform itself, traders can access video tutorials for free. These videos cover different subjects, which include information on FX options, binary options, digital options, different chart patterns, how to use different technical indicators, CFD trading, and the Crypto Digest.
Good lucky trading!
_____________________________
Questions about trading? Try AI, Artificial Intelligence
(Robot bottom right)
Below you can see the brokers most used by our traders.  they have been selected based on the number of registrations and trading operations. In addition to these, you can view the complete list of brokers with relative comparison.
Visit our Italian website ForzaForex.it (translator option in many languages) full of free indicators, strategies and unique resources!
By registering through these links you get preferential assistance, various free resources and the possibility of free access to the VIP signal room. Clear cookies before visiting a broker. Send your ID, teh identification number that the broker assigns you, to info@freebinaryoptions.one.
Risk warning: "Binary options are not promoted or sold to retail EEA traders" If  the broker is not authorized in your area, e.g. IQ Option  (Eurozone / Usa), you can choose from our Broker Comparison (reliable brokers who accept traders from all over the world, following image):